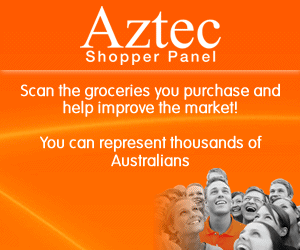 The National Shopper Survey is an independent study aimed at informing Australian retailers and manufacturers about the way Australians shop.

Using a simple in home scanning device, the Aztec Panel will monitor what you buy which helps to ensure that Australian households are provided with what they want and need.   The Shopper Panel represents a "mini Australia" – a diverse cross-section of consumers from all over the country.

You will be provided with a simple to use barcode scanner and asked to scan the barcodes of your grocery items each time you come home with shopping.

You'll also record other information about your shopping trips, like where you shopped, how much you paid, and how many/much you bought.

The scanner system connects to a power point (provided) and the data is automatically transmitted once a week using a mobile network or dial up silent transmission, at no cost to you.

In appreciation of your time, you will be rewarded with reward points every week which can be redeemed for a great range of gifts plus automatic entry into monthly, quarterly and yearly prize draws, where you can win presents, gift cards or cash, simply by regularly scanning your shopping.

Remember, this panel is only open to residents from Australia.
Get more info/join: Aztec Panel Australia