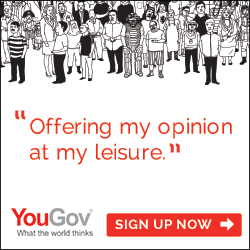 As a member of the YouGov panel you will be part of a global survey community of people who share their opinions in return for points and rewards.

YouGov conducts polls on the Internet about politics, public affairs, products, brands and other topics of general interest.  YouGov polls are taken by people, from all over the region, who have agreed to share their thoughts on a wide variety of important issues. It is free to join for anyone age 16 and above.

Most YouGov surveys are short and should only take you about five to seven minutes to complete. A typical survey is only about 20 to 30 fairly short questions in total. Occasionally, there will be longer surveys or surveys with more complex questions. The longest surveys should not take more than 20 minutes to complete.
Payment Information:
The minimum threshold for redemption is 5000 YouGov points.  This is equivalent to $25.  Cash will be transferred into your PayPal account within 30 business days of the request being received.  Other rewards are available, such as gift cards.  These will be delivered to your postal address within 1 month of the request being received.
You must be at least 16 years of age to join and is open to residents of Australia only.
Get more info/join: YouGov Panel Australia