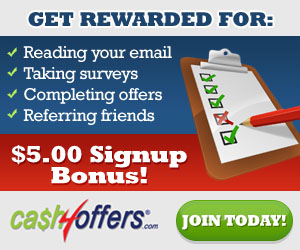 Cash4Offers gives you the opportunity to earn whilst doing various activities online, such as reading advertising emails, taking surveys and signing up for offers.They will credit your account with $5 just for signing up.  The minimum amount required to request your payment is currently $35. Members may have only one pending payment request at a time.

You can request a payment from the Member's Section and will be processed on a Net-25 basis. That means payment requests are processed 25 days after the end of the month in which the payment was requested. Payments are generally processed on the 25th of every month.

A member automatically becomes a Gold Member after the first payment is received. Gold Member payment requests are processed within 3 business days.

Cash4Offers is only available to residents from the US, Canada and Australia.  You must be at least 18 to join and only 1 account is allowed per household.
Get more info/join: Cash4Offers