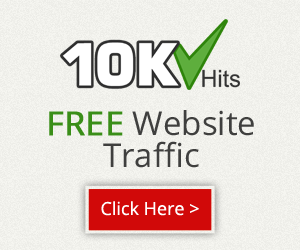 10K Hits is an autosurf traffic exchange, and they will give you 100 credits just for signing up.

Their surf ratio is 8:10 – in that you will earn 80% of the time earned for every site viewed. So if a site is viewed for 60 seconds you will earn 80% of 6 points (4.8 points).

On the basic free membership you can add up to 3 sites. Do offer a geo targetting option but this is for upgraded members only. Free members however can set the number of hits per hour, overall hit limit and how many seconds you would like your site to be viewed for.

Also offer a referral program where you can earn for referring new members – this is a 1 level referral program earning you 5% of points that your referrals earn.
Get more info/join: 10 KHits