Life Points is the new name for GlobalTestMarket. GlobalTestMarket was around for years and has now re-branded its whole website. This is the Canadian version of the site.
LifePoints CA offer the opportunity for you to participate in online market research in Canada and will reward you for answering online surveys about various big-name brands and products.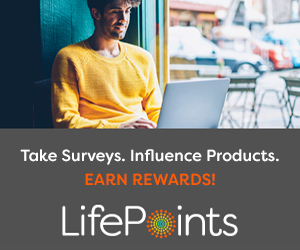 "By joining Life Points, you will become a member of a community of 5,000,000 consumers worldwide and contribute to online research studies from top companies from around the world."
With each survey completed, you earn reward points, that they call LifePoints. LifePoints can be redeemed for gift cards and cash via PayPal. There are usually loads of different brands under the Gift Card option for you to choose from. Just check in the rewards section of your account for the amount required for the various Gift Cards available. If you request cash via PayPal it will usually take about 10 business days to appear in your account. There is also an option to donate to charity.
Be careful though, because LifePoints do expire, according to the site:
"30 days from initial registration or within any 90 days period, after no member activity. To keep your account "Active" means that you have joined the panel and participated in a survey or other activity on the site within 30 days from your initial registration or within any 90 day period."
Joining the program and being a member is always completely free. Remember, this version of the program is open to residents of Canada ONLY.
To get more info or join, visit Life Points Canada