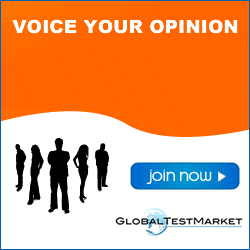 Global Test Market are one of the most popular survey panels around and are a good solid paying  site. They reward you with varying amounts of marketpoints for participating in the surveys and polls, plus  you also have the opportunity to be entered into prize draws.

Points are of course exchangeable for cash. Pretty easy to reach the minimum of 1000 points if you take a few of the surveys every week. Of course the amount of surveys you receive may depend on your demographics and interests.  Make payments via Paypal, eVouchers or Gift Certificates.

GlobalTestMarket do offer other demographical variations of their program, which usually offer you the chance to receive and complete more surveys based on products and services in the country where you live. Just do a search on the blog.

This Australian version is open to, obviously, Australia Residents ONLY, who are 18 years and over.
Get more info/join: GlobalTestMarket Australia