The GfK MediaView panel is your chance to share your thoughts on the things you watch on the TV or listen to on the radio. There is a quick and easy survey available every day. Plus you could also be invited to take part in additional surveys as and when they become available.
Finally, your opinion can have a real impact on the media; you know what's worth watching on TV, radio and online media and the broadcasters want to hear from you!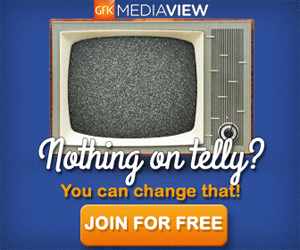 Like all paid survey programs you will be rewarded for participating in the surveys and polls. You earn rewards or have the chance to win prizes including cash, vouchers and high street gift certificates.
GFK MediaView Panel run a Weekly Prize Draw and have a Points Prize Draw where there is a array of prizes available. In both draws you can win from a great selection of prizes including vouchers, gadgets and experiences. The more surveys you complete the more points you will be rewarded with and the greater the prizes.
Based on how many surveys you complete a week, you will receive entry into either the bronze, silver of gold tier of the weekly prize draw.
For every survey completed you will earn points, points will then be exchangeable in the reward section in your account.
Open to UK residents only.
To get more info or join: Visit GFK MediaView Panel