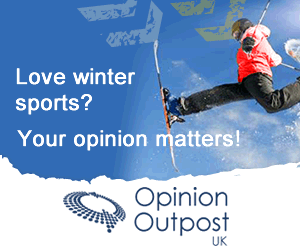 This is the UK version of Opinion Outpost, there are other country specific versions of this survey panel available, just do a search on the blog.

Membership is always completely free and you are rewarded for participating in interesting research studies for major companies around the world.

Many surveys are rewarded with 'Opinion Points' that can be redeemed for cash via PayPal. The minimum balance required to make a redemption is only £2.50!  Each survey you participate in also earns you an entry into the £20,000 year long cash give away. Every quarter a winner will win £5,000, take multiple surveys and increase your chances of winning.

Open to residents from the UK only, and you must be at least 16 years of age to join.  You can also join via your Facebook account!
Get more info/join: Opinion Outpost UK