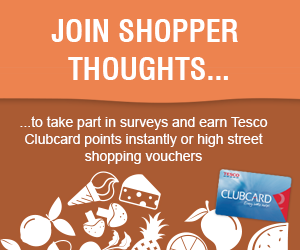 By signing up to Shopper Thoughts you can earn Tesco Clubcard points for answering surveys.  Surveys will typically take between 5 and 20 minutes to complete.

The number of Points may vary, typically you will receive 100 Points for a 15 minute survey. The amount will be clearly stated before you start any survey.

There will be some short surveys where you will not be allocated points. You will be entered into a prize draw instead.  There will be a monthly draw for prizes ranging from £10 to £50 worth of points.

If you do not have a Tesco Clubcard, don't worry, you can instead opt for the Shopper Thoughts incentive scheme where you can earn a gift certificate/shopping voucher instead.  When you reach 1,000 points this converts to a £10 shopping voucher to use at a number of top retailers.

Open to residents from the UK only and you must be aged at least 18 to join.
Get more info/join: Shopper Thoughts