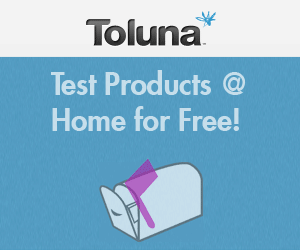 Toluna gives you the opportunity to test products for free and share your opinion.  It is one of the bigger survey/opinion sites currently available in the UK.

Toluna rewards you with points for completing various tasks on site and they will also give you 500 points just for joining.  When you have earned at least 60,000 points you may redeem your points for rewards, such as a payment into your Paypal account, vouchers to spend at shops, online retailers or Facebook Credits.  You will find all the reward options in the 'Rewards Center' in your member area.  As there is usually a good handful of surveys to take daily as well as polls and other tasks when you log in to your member area, you should find you will be able to make the minimum points threshold pretty quickly.

As Toluna has an active community of members, you can also add your own 'poll' or 'topic' to the site.  This is your chance to get other members feedback on things that you would like to discuss or get other members' opinions.

This version of the Toluna program is open to UK residents only, please feel free to search the blog for Toluna programs in other countries.
Get more info/join: Toluna Opinions