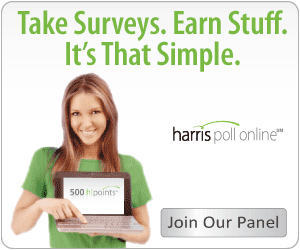 Become a member of the Harris Poll Online Survey Panel and you will earn rewards (usually points) for your opinions.Once you become a member, you will instantly receive a quick survey to enable you to earn your first points.Once you complete the initial survey, you will then start receiving invitations to participate in a variety of surveys.  Topics include: consumer, technical, political, etc.

For every survey you successfully complete, you will receive points called HIpoints, which you will be able to exchange for rewards – usually a variety of merchandise and gift certificates.  For each survey that you are directed to, but do not qualify for, you will be rewarded a HIstakes entry and 15 HIpoints. Also, with every survey you complete you have a chance to enter a $10,000 sweepstakes!

Open to residents from the US.  There is also a Canadian verison of this survey panel here.
Get more info/join: Harris Poll Online