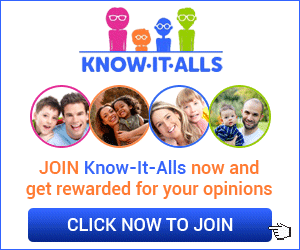 The KnowItAll Panel will send you online surveys on a variety of topics, from toys and games, to education, to travel, to restaurants. And sometimes there are opportunities to participate in focus groups, webcam surveys, one-on-one interviews or other types of research.

In exchange for your time and opinions, you will earn points for each survey. You'll receive up to 500 points for finishing surveys you qualify for. These points are accumulated and then automatically converted to digital gift codes that can be used like cash.

To give you lots of choices of where you can use your gift codes, the KnowItAll Panel use Tango Card (tangocard.com). With Tango Card, you can pick from stores or companies like: Starbucks, Amazon.com, iTunes, Facebook Credits, Toys R Us and many more.

Every time you accumulate 500 points, they will send you a $5 Tango Card gift code. Your gift code will be emailed to you automatically, so you never have to worry about requesting your rewards.

Open to US Residents only.
Get more info/join: KnowItAll Panel