Opinion Outpost gives you the opportunity to earn cash and rewards for the time you spend taking online surveys. All surveys are rewarded with points which you can let build up and then redeem for cash or gift vouchers.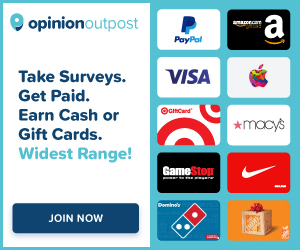 By being a member of Opinion Outpost, you may find yourself taking paid online surveys about electronics, medicine, politics, sports, advertisements, appliances, or even what you ate for breakfast. Companies value your opinions, and will reward you for sharing them.
The more surveys you take, the more opportunities you'll have to collect points and redeem them for cash and other great rewards. Payments are in the form of cash to your Paypal account, Amazon or iTunes vouchers.
You can also sign up if you so wish via your Facebook, Google+ or Instagram account. Open to residents from the US only. There are other country specific versions of this survey panel availble, just do a search on the blog.
For more info or to sign up: Visit Opinion Outpost