YouGov conducts polls and surveys on a wide ranging number of topics. Everything from politics, public affairs, products, brands and other topics of general interest.
Most YouGov surveys are fairly short and should only take you about 5 to 10 minutes to complete. A typical survey is only about 20 to 30 questions in total. Occasionally, there will be longer surveys or surveys with more complex questions. The longest surveys should not take more than 20 minutes to complete.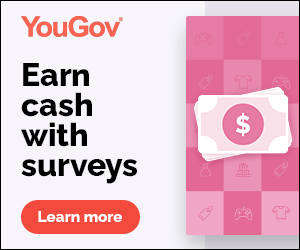 Points rewarded for each survey will vary depending on the complexity and length. Instead of points, some surveys may offer entries for prize draws instead. Every survey will tell you what is on offer for completing it before you start.
When you take surveys you accumulate points which can be redeemed for rewards. There are a number of options in the rewards center like cash, gift certificates, tote bags, t-shirts and PrePaid Gift Cards. PrePaid Gift Cards include brands such as VISA, Amazon, Best Buy, Walmart and iTunes to name a few.
YouGov will sometimes give you a welcome bonus just for joining. Open to residents from the US only and you must be at least 18 years of age to join.
Get more info/join the YouGov Panel USA