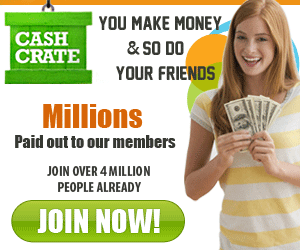 CashCrate allows you to earn by signing up for or completing various offers, participating in surveys, and shopping online.

Will give you $1 in your account just for signing up and the minimum payout is $20.  Payments are made via Check or Dwolla.  Silver+ members have the additional option of being paid via Paypal or Direct Deposit to your bank.

Offer a referral program which pays on two levels. You get paid 20% of what your referrals make and 10% of what their referrals make.

You must be at least 13 years of age to join and are currently looking for more members from the US.  This is most probably because most of their offers are aimed at US residents.
Get more info/join: CashCrate